The Coca‑Cola Company is First to Launch Multiple Sparkling Brands in 100% Recycled Plastic Bottles* Across Canada
All 500mL sparkling beverages bottles sold by The Coca‑Cola Company in Canada will be made with 100% recycled plastic* (*excluding caps and labels) by early 2024. This marks the first time 500mL sparkling beverages will be sold in bottles made from 100% recycled plastic* in Canada.
"This means that no virgin PET plastic will be used for our sparkling 500mL bottles under normal circumstances going forward in Canada," said Kurt Ritter, Vice President & General Manager, Sustainability, Coca‑Cola North America. "We hope that transitioning our 500mL sparkling portfolio to 100% recycled plastic will increase the amount of high-quality, food-grade, recycled plastic available in Canada and, ultimately, enable us to offer more of our brands in this sustainable format."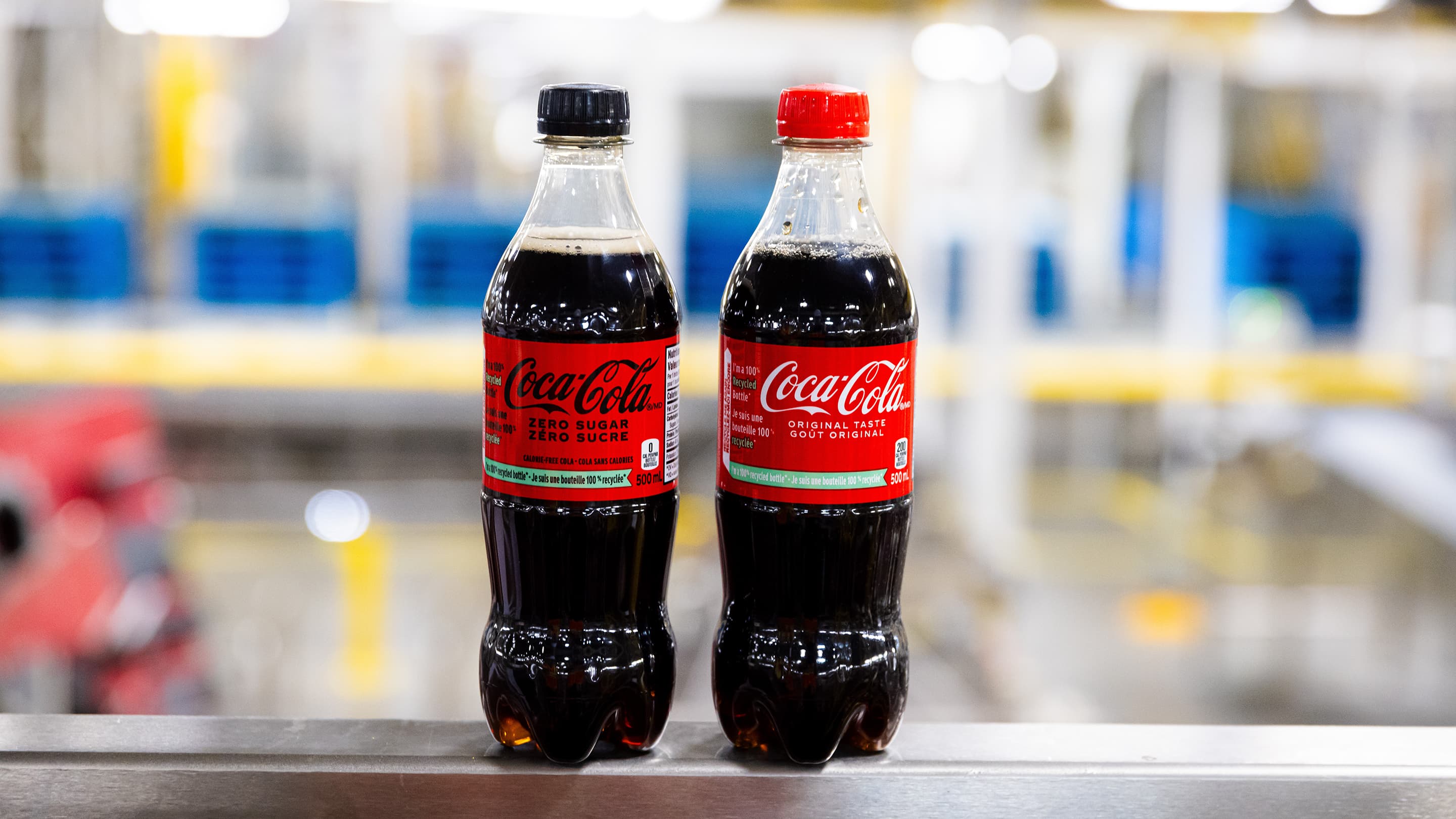 Bottles made with 100% recycled plastic* create and sustain a circular economy for plastic packaging. Once the material (PET) is recycled, it is cleaned, sorted and ground into small flakes that become raw material for more new bottles. To build awareness and encourage consumers to continue recycling bottles, all 100% recycled plastic bottles* will feature "Recycle Me Again" messaging.
The shift supports The Coca‑Cola Company's World Without Waste goals to use at least 50% recycled content in its packaging by 2030, and to reduce use of virgin plastic. It's projected to save 7.6 million pounds of new plastic in 2024 alone, as well as reduce nearly 7,000 metric tons of CO2 emissions annually which is the equivalent of taking nearly 1,500 cars off the road for one year.
"We're proud to partner with The Coca‑Cola Company on our transition to 100% recycled plastic bottles across Canada," said Todd Parsons, CEO of Coca‑Cola Canada Bottling Limited. "We're on a journey to be the leading beverage partner in Canada, and one of the ways we're doing that is by earning our social license to operate by driving a circular economy for our packaging. Every one of these 100% recycled plastic bottles represents meaningful progress on that journey."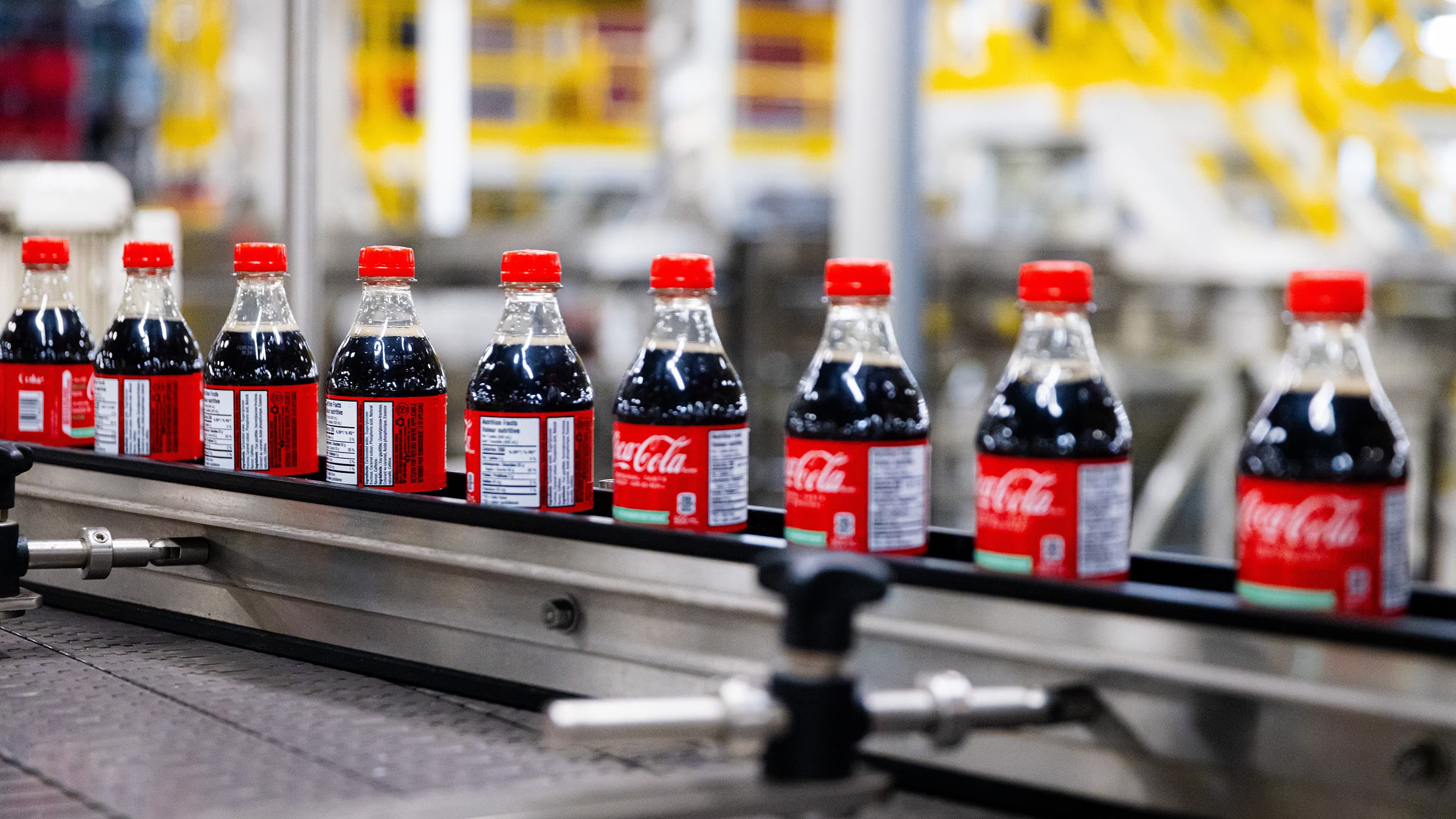 The new 100% recycled plastic bottles* will be produced locally at the Brampton, O.N., Calgary, A.B., Lachine, Q.C., and Richmond, B.C., manufacturing facilities, by Coke Canada Bottling. An independent, family-owned business, Coke Canada Bottling facilities from coast-to-coast are home to 6,000 diverse employees who proudly make, distribute, merchandise, and sell the most-loved beverages Canadians enjoy.
Coca‑Cola Canada is celebrating the announcement—which follows last year's nationwide rollout of DASANI bottles made from 100% recycled plastic*—with a pop-up experiential activation in Toronto Ontario called The Replay Arcade..
Guests who bring in an empty plastic beverage bottle (all brands and sizes are welcome) to be recycled will receive 12 game tokens and a Coca‑Cola beverage in a 100% recycled plastic bottle*. The Replay Arcade, located at Stackt Market at 28 Bathurst Street, will be open Nov. 10-12 from noon until 8 p.m. Entry is free and no tickets or reservations are needed.