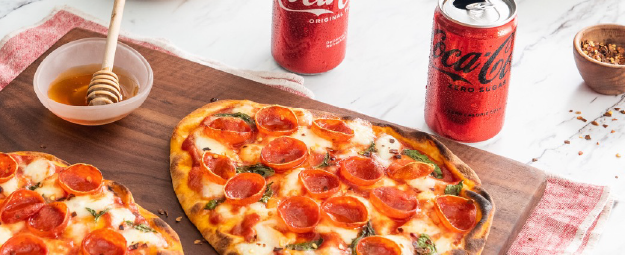 Bee Sting Flatbread Pizza
Ingredients
2 pieces of Naan style flatbread
2/3 cup of canned tomato sauce
1 cup shredded mozzarella cheese
20 pepperoni cup pieces or 14 pieces regular size pepperoni
1 cup of whole fresh basil leaves
2 Tbsp cup parmesan cheese
2 Tsp hot honey (favorite store bought)
Preheat oven to 500 degrees.
Place flatbreads on a flat work surface. To make the first pizza, spoon ⅓ cup of tomato sauce on the flatbread and spread evenly to about a half an inch from the edge of the bread. Sprinkle 1 Tbsp of parmesan cheese on the sauce and then top with the shredded mozzarella making sure to evenly cover all the sauce. Add fresh basil leaves and then place the pepperoni on top as desired.
Transfer the pizza to a baking pan and put into the oven on the middle rack. Bake for 4-5 minutes until most of the cheese is melted and remove from oven. Set oven to broil and when fully hot, put the pizza back in oven on the middle rack and broil until the pepperoni curl and cheese is fully melted and slightly brown. About 2 minutes. Remove, let cool slightly.
Drizzle with the Tsp of hot honey and serve.
Repeat to make the second pizza.