Women Business Centres: Transforming lives of rural women
Women in rural Bangladesh face numerous difficulties, starting from the prospect of child marriage, lack of access to healthcare facilities, to having no say in the financial matters of the household. They are reduced to being homemakers with no recognition for their hard work. Add to that a lack of training facilities to learn new skills condemning them to live a life of misery.   
To address the inequality that marginalised people face worldwide, Coca Cola's primary international philanthropic organisation, The Coca Cola Foundation was launched in 1984 and to achieve sustainable development, Coca Cola Company announced 5by20 in 2010, a global initiative to enable the economic empowerment of 5 million women entrepreneurs by 2020.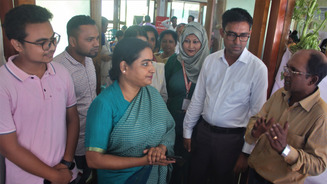 Since the inception of WBC at Pipradanga, Unnanti Mondol, like other female entrepreneurs, has been operating her business with four other female entrepreneurs. The WBC model is essentially a cooperation driven business model, where entrepreneurs like Unnanti will team up with other female entrepreneurs who have also received the necessary training and the members contribute to the business depending on their ability, by providing capital or products and then sharing the profits with everyone. The Coca Cola Foundation provides equipment's like freezers, laptops, pH test kits and other essential things needed to conduct businesses.
To attain financial empowerment, a community-based model initiative has more chances of success.
Topoti Rani Majumder is an entrepreneur from Sontoshpur WBC, and has been farming organic vegetables and fish along with maintaining a grocery store. With the help of her fellow entrepreneurs, she provides services like selling grocery goods, vegetables, children's food etc.
Topoti Rani Majumder is a successful entrepreneur now but like most rural women she had faced various social obstacles.
"In the beginning it was very tough, people would laugh at us, make fun of us for trying to operate a business, like men do. These same people not only changed their views after they saw our hard work, but are also supporting us by becoming our customers. This has helped us have more confidence and ultimately made us realise what we are capable of," said Topoti.
The unity between entrepreneurs is one of the unique aspects of this Women Business Centre, as the emphasis is having financial independence by working together. This goes to show how rural women can not only have a keen sense of entrepreneurship but also solidarity among them.
"My fellow entrepreneurs contribute to the business according to their capabilities, when it's time for profit sharing, we take as much as we need and focus on developing the business. In addition to the grocery store, we are planning to open a computer centre to assist people and students in giving essential training on computer literacy," said Monika Baroi, an entrepreneur from another Pipradanga WBC.
Alongside visiting the women entrepreneurs, a workshop and seminar was held on "The role of Women Business Centre for women economic empowerment including social protection" at Upazila Complex Auditorium, Tungipara, with participation of around 50 stakeholders including WBC entrepreneurs from Khulna, Bagerhat, and Gopalganj among other places. Tungipara UNO Md Al Mamun was the special guest and Sahida Sultana, DC of Gopalganj was the chief guest.